STRUCTURAL HONEYCOMB IS OFTEN USED IN THE FOLLOWING APPLICATIONS:
Aerospace

 

Space Shuttle applications, Missile Fins.
Aviation

 

Our number one focus. Structural Honeycomb for Aircraft, thrust reversers, exhaust nozzles, hush kits and quiet wing systems, engine plugs. Hot section applications. Inconel, Titanium and stainless steels.
CASE STUDY: Aircelle A380 Trent900 Exhaust Nozzle Honeycomb
|
View
Printable Structural Honeycomb Specification |
View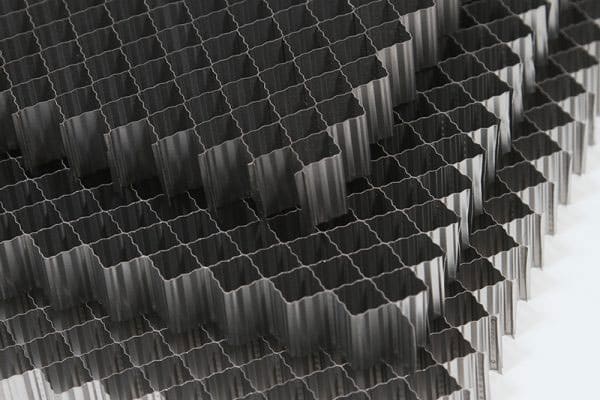 DETAILS
Meets and exceed the requirement of various industry specifications
Finished and ready for brazing
up to 16 welds per node (to ensure tensile/shear strength)
CELL SIZES
3/8″ square and hex
MATERIALS
Nickel and Titanium Alloys
Stainless Steel
STRUCTURAL HONEYCOMB EXAMPLES
Indy Honeycomb's mission "to make metallic honeycomb easy to buy"  - is, and always has been, at the forefront of our philosophy. In 1996, after noticing a real need for a service-minded supplier of honeycomb products, Steve Barnett of Barnett Industries, Inc., founded the company......
"We received early delivery and a quality product from Indy Honeycomb. It was packaged very well to protect the part."
Custom Application Customer
"I place my orders knowing that Indy Honeycomb will process them correctly and on-time with the proper paperwork included."
Engine Seal MRO Shop