Engine Seal Honeycomb turbines are part of the manufacturer's design strategy to achieve and control proper levels of compression throughout the engines or turbines. Honeycomb is a critical part of these important components that are required in new engines and subsequently are inspected with Standard Practices and replaced per manufacturer's specifications if required due to damage or wear. Honeycomb availability is especially important in this repair. Call Indy Honeycomb to make sure you have the proper parts when you need them.
Printable Engine Seal Honeycomb Specification (Requirements, Definitions, Provisions and more) | View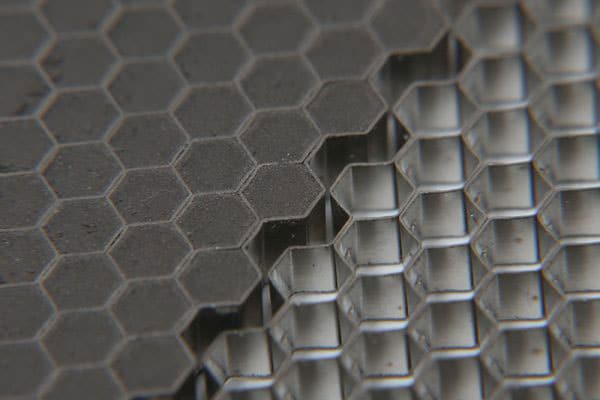 MATERIALS
Hast-X
Haynes
Inconel
Stainless
CELL SIZES
1/32″ hex
1/16″ hex
1/8″ hex
VALUE ADDED
Contours
Steps
Chamfers
Indy Honeycomb's mission "to make metallic honeycomb easy to buy"  - is, and always has been, at the forefront of our philosophy. In 1996, after noticing a real need for a service-minded supplier of honeycomb products, Steve Barnett of Barnett Industries, Inc., founded the company......
"We received early delivery and a quality product from Indy Honeycomb. It was packaged very well to protect the part."
Custom Application Customer
"I place my orders knowing that Indy Honeycomb will process them correctly and on-time with the proper paperwork included."
Engine Seal MRO Shop